This video describes a couple of ways that you can sign in to Zoom. We've found that you'll have the smoothest experience if you sign in to the Zoom app at the beginning of each day, as this will prevent the prompt from coming up while joining a Zoom event later. You can also sign in to the Zoom website to manage you recordings, create meetings, and manage account settings by visiting snc.edu/zoom.
Verify the account you're signed into
Most of the features of our Zoom account require that you're actually logged into your SNC account while using Zoom. We've heard from a number of users that they also have their own personal Zoom account. If you find that a feature is missing or not working correctly, please verify that you're actually logged into the correct account.
You can do this by clicking on the icon in the upper right corner of the Zoom app. This will display your name along with your email address (you can click the small eyelash icon to show your complete email address):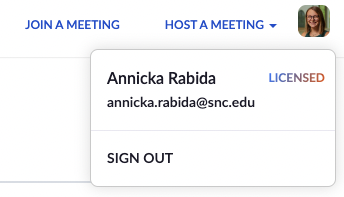 If you find that you're logged into the wrong account, simply choose "Sign Out" at the bottom of the list. Then sign in again using your SNC account.
IMPORTANT:
If you had previously used your SNC email address to login to Zoom, and you have not yet logged into Zoom since we implemented our account (July 2020), please refer to the following article:


Our Zoom license is for current students, faculty, and staff. Other users who try to login (i.e. alumni, retirees) will see an SSO error message.