Google Hangouts Meet allows you to have a video and/or audio conference call with multiple participants in various locations. Google's help articles contain a lot of info about how Meet works. Here are a couple of good ones:
What follows is just a quick primer to show you how to create such an event and how to participate.
Create A Meet Event
When you create an event on your calendar and invite others, the "Hangouts Meet" function (including the phone call-in) is automatically turned on. You don't have to do anything else; just create the event and invite others.
IMPORTANT: If you do not intend to use Hangouts Meet or allow people to participate in your event remotely, be sure to turn this off.
Participate In A Meet
You can participate via Google Calendar on your desktop/laptop computer or via the Google Calendar app on your smartphone.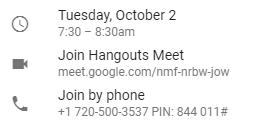 To start, click the event once. In the popup window, you'll see a couple of options to join the meeting.
"Join Hangouts Meet" means you'll use your computer to participate. You'll need a microphone and a camera.
"Join by phone" means that you'll use a telephone to dial in and participate via audio only.
How Many Participants?
Google's article about how to "Start a group conversation" explains that we can have up to 150 participants in a text conversation and up to 25 participants in a video call.
Google's "Get Started With Meet" article mentioned above is also helpful, provided you know that we have "G Suite for Education".
Test A Meet
The information in this article is intentionally brief. We strongly recommend that you test this to see how it works with your computer or mobile device. Just create a test event and invite a coworker. Then both of you can follow the steps above to participate. Once you've gone through it yourself on your computer or smartphone, you'll be much more comfortable when you participate in a real event.